Phoenix Auto Repair Testimonials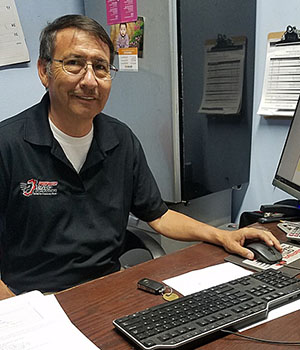 At Perez Auto Repair we appreciate every customer's option of our shop and our performance. While we love a great review, we also appreciate the honesty of those rare negative reviews and strive to learn to do better. Below are just a few reviews from our thousands of valued customers since 1976.
Ismael Perez
Owner
Kathryn Morrison II

I called ahead to see if my car could get in and Gabby was able to get me in. There was 1 car ahead of me getting an oil change. Then I was in. I spoke with Robert who gave me to a quick class on mechanics and how my engine spark plugs and coils work. The technician Jorge diagnosed the car, checked the engine coils and was determined that the spark plugs were the issue, Robert recommended the Air filter to be replaced. The price was fair for the parts and labor. I asked for OEM parts which they offered as I want my car to last a long time ( you get what you pay for). I spoke with the owner Ishmael, and he seemed very professional and kind. They offer classes on Saturdays for people to learn about how to care for their cars. My car runs nice and quiet now. Thank you.
MK Crown

Stop by to get an oil change and they took care of everything. Very nice and helpful. Highly recommended. God bless
Miguel Angel

Provides reliable service they warranty all your work and provide various methods of payments if your pockets ever hurting and you need your car repaired this is the place to go friendly and very reliable repair shop very honest. They even offer you a ride home. 💪 DEFINITELY RECOMMEND
Daniel Rosen

They did a good job at a reasonable price. The also give a two year warranty on parts. Not a fancy place to go to at all. Really nice staff. I would go back. They don't try and find things wrong with your car just to jack up the price either.
Rodney McCutcheon

I had a engine light problem they did a smoke test and found the problem, fixed it at a very reasonable price, excellent service highly recommend
Venu Gopal

These guys r friendly…..i went there because my windshield wipers sprinkler nozzles were not working…..and they fixed that…along with that they fixed my bumper grill also….the total they charged me is 15 dollars….when I asked just to check my sprinkler nozzles are not working at "pep boys" , they told that they charge 50$ for checking….look at the difference…..so i would recommend this place for quick repairs…..
Gerardo Rios

atienden bien pero cobran $90 la hora,por dos handle de las puertas delanteras casi $100 muy caro.

(Translated by Google) They serve you well but they charge $ 90 an hour, for two handles of the front doors almost $ 100 very expensive.
Arturo Perez

This is one of the best shops. They have great mechanics and an excellent customer service I definitely recommend it
To see our complete list of Google Reviews or to leave your own review please CLICK HERE.